Shopping center

"Juan de Austria"
Grocery shops number 30 and 52
Avenue Juan de Austria, 16


Phone and

:

00.34.91.888.13.44




Postcode 28804

«»

Alcala de Henar

es

«»

(Madrid)

«»

Spain


e-mail:

tiendas@casqueriasgonzalo.com
9 HOMEMADE RECIPES AND THEIR PHOTOS
The homemade recipes are given with the acquisition of the product.
So far we have 9 different at your disposal.
(here only the main ingredients are included, the complete recipes are in the stores)

TRIPES OF VEAL TO THE FROM MADRID ONE
For 4 people, 4,40 lb. of tripes with paw and veal muzzle, 1 sausage, 1 pudding.
Natural lemon, ham tip, laurel, onion, nails, garlic and bobby.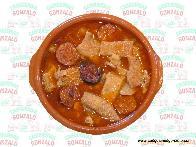 OFFAL AND BLOOD WITH ONION
1 lamb offal or a piece of blood of 1,10 lb., 1 onion, 3 cloves of garlic, salt and sweet or spicy paprika.


MUFFLED KNACKS OF LAMB AND IN SAUCE
For 4 people, 16 boneless knacks, 1 head of garlic, 1 onion, salt and some laurel.


COOKED HEAD OF MEAT (1/2)
Veal head of meat or pig, onion, garlic, tomato, green pepper, 1 lauresl leaf, salt and half glass of white wine.

STEWED HEAD OF MEAT (2/2)
Pig head of meat or veal, onion, garlic, salt, carrot, laurel and he/she came white.


GIZZARDS OF LAMB AND PIG WITH GARLIC
0,66 lb.for person, 5 cloves of garlic, salt and bobby


TAIL DE STEWED CHOTO
1 tail, olive oil, 1 onion, 4 cloves of garlic, 2 carrots, mushroom ¼, 2 laurel leaves, milled pepper, salt, came white and potatoes.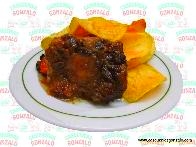 MUFFLED BRAINS
2 brains for person, flour, parsley, olive oil, egg and lemon.


KIDNEYS OF PIG TO THE SHERRY
2,20 lb. of kidneys, 1 big onion, 1 glass of visno of Sherry or white, paprika, oil and 2 cloves of garlic.
TONGUE OF STEWED VEAL
1 tongue of Veal, 2 carrots, 1 onion, several teeth of ajo,2 laurel leaves, salt, peas and he/she came white.



RELATIONSHIP OF THE FIRST 15 RECIPES OF PRODUCTS DE CASQUERIA
OFFERED TO THE CONSUMER, CARRIED OUT FOR
ASEDEC (ASSOCIATION OF MANAGERS OF EATABLE SPOILS)
ALL THE ARTICLES OF CASQUERIA FOUND THEM HERE
WE HAVE 9 HOMEMADE RECIPES AT YOUR DISPOSAL ACQUIRING THE PRODUCT TO COOK