HANDS OF PIG
4 pig hands, 2 cloves of garlic, 1 branch of parsley, some cinnamon in branch,
egg yolk, oil and salt.
They leave for the half and they are placed in a pan with

cold water, some white wine, a laurel leaf,
a small onion, two cloves of garlic, the branch of parsley and the salt. They allow to cook to slow fire some two hours and you
they are slippery. He/she warms the oil in a pan, the garlics and the parsley are fried and they are added to the together the pig hands
with a little bit of cinnamon.
And lastly the yolk of the egg is beaten and it is added outside of the fire. This recipe has passed in my generation family
in generation from

my great-great-grandmother, until their great-great-grandchilds a very good plate for people that him




like the pig knacks

that

are very jellied.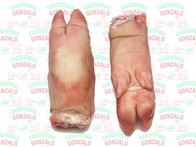 It prescribes donated for: Florence Rodríguez
---
KNACKS OF LAMB TO FRIED
Boned (4 for person) 16 lamb knacks, 2 onions, 2 green peppers,
2 tomatoes, 2 cloves of garlic, tomato sauce, 3 spoonfuls of oil and salt.
Him first are to cook the knacks in a pan with abundant it dilutes aprox.45 minutes, the vegetables that he/she has by hand
(leeks, onions, carrots, celery...), a laurel leaf and some salt. To cut in Julian the onions
and the green peppers, to peel, to remove the seeds of the tomatoes, to cut the cloves of garlic in sheets.
We prepare the fritada gilding the garlic in the oil, adding the onion, the pepper and the tomato next,
for this order. To season, to give a touch of pepper and to allow to cook to slow fire during about 10 minutes.
To add some homemade tomato sauce to reinforce the flavor of the fritada. To maintain the boil others 3 or 4 minutes.
We introduce the knacks in the sauce maintaining them to slow fire during 15 minutes before serving.
It prescribes donated for: Gallant Isabel
---
MUZZLE OF VEAL IN SAUCE
2,20 lb.. of veal muzzle in pieces, 3 onions, 4 carrots, 1 tomato, 2 eggs, wheat flour, 1 glass of white wine,
it dilutes, virgin extra oil, salt, parsley and ½ spoonful of sweet paprika.
Put abundant water to heat in the quick pot. It introduces the muzzles, an onion troceada and two carrots.
It seasons, he/she closes the pot and it allows to cook during 30-35 minutes.
It retires the muzzles, allow them to temper and cut them in slices.
It whips the eggs, it sprinkles with chopped parsley. It muffles the muzzles, going them by wheat flour and egg and fry them in one
pan with oil.
For the sauce, it chops the 2 onions in squares and the carrots in slices. Put to poach in a pan
with oil. When they are gilded, he/she adds the tomato (peeled and in pieces) and a spoonful of wheat flour. It braises shortly and
it pours the wine and a glass of the resulting broth of cooking the muzzles. ½ spoonful of spicy paprika adds, it mixes well and
it allows to reduce. It crushes the sauce.
It introduces the muzzles muffled in the sauce and it allows to cook during 4 or 5minutos.
It serves in a source and he/she adorns with a branch of parsley.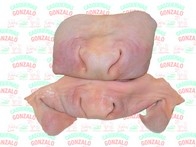 It prescribes donated for: Carmen Ruíz
---
TRIPES OF VEAL WITH CHICKPEAS
0,88 lb. of chickpeas, 1½ of left veal tripes, 1 laurel leaf,
3 carrots, 2 onions, 1 leek, 2 cloves of garlic, tomato, 2 peppers pork sausage and salt.
We cook the chickpeas in a traditional way. That is to say, we put to soaking the chickpeas the previous day in temperate water
with a handful of fat salt.
The following day we wash them well and we put them with hot water in a pot.
To cook the chickpeas we add them a carrot, a clove of garlic, a leek, half onion, a jet of oil,
some salt and we allow to cook the necessary time (40 minutes approximately in the pot to pressure or some
2 hours to slow fire in the pan).

Once cooked we retire all the vegetables of the cooking and we reserve those
chickpeas.
The tripes leave them prepared the eve.

We wash them with lemon and wheat flour in the pile, then we clarify them
with cold water and we put them to cook in a pot.

We add some salt, a laurel leaf, a carrot, an onion,
two cloves of garlic and we allow to cook.
Among point we elaborate the sauce for the tripes:
We put a big pan to the fire with oil. We add two teeth of
garlic, an onion and he/she mediates, a tomato, two peppers pork sausage and a carrot, everything it very dive. We let him to leave
making slowly in the pan.
In the last moment, we toss a spoonful of wheat flour and we mix it well. We happen
for the mincer this sauce and we pour it in a pan where we will add the tripes and the chickpeas then.
When we have cooked the tripes, we retire the vegetables, we drain them and we add them to the pan with the sauce,
allowing to cook the whole group during about 15 or 20 minutes.

Later on when the tripes are already in their point we serve them accompanying of the cooked chickpeas.
It prescribes donated for: Alfredo Roman
---
FINE FRIED GUT
1 Zarajo for person, natural lemon, I age and parsley.
We open the fine gut so that they are in 4 slices. We fry in the pan or electric iron (where better they leave
it is in the ember).
While they become very fried, he/she gets ready a sauce of squeezed lemon, I age and mashed parsley
everything joins and we serve it in a bowl. When they have been fried, we take out them and those
we dew of the previously prepared sauce. It is a plate to eat them with the hands.
It prescribes donated for: Ana Mª Serrano
---
HEAD OF MEAT OF VEAL
3,30 lb..Veal head of meat and with their cover, olive oil, 1 head of garlic,
a glass of white wine, black pepper in grain, vinegar and laurel.
Him first are to heat the express pot well and to toss a good jet of olive oil, enough as
to gild it, which must throw when the oil is very hot.
Once golden the meat a glass of white wine, a laurel leaf, is added several grains of
black (that to the pleasure of each one) pepper, a cut head of garlics for the half (it is not necessary to peel it)
and half glass of water.
It is let that it cooks to the minimum in the express pot during one hour, because the head of meat is a very sinew.
To the end of that hour the pot opens up and a jet of vinegar is added, going up the fire so that,
with the open pot, go reducing the sauce until it is the own greasy dropped by the meat practically.
Once finished the plate, is a mellow, delicious meat, which comes undone in the mouth with a sauce that I assure you
you won't leave anything in the plate.
The perfect garnish for this plate is: some potatoes to the poor thing or some potatoes to the vapor which have been left
to rest in the sauce of the meat. Only a detail more, although for sure you have already thought of it: accompany him of a good one
he/she came I tint and of a good piece of bread, of that that makes "cris cris" and that he/she invites to leave the cleanest plate that when
it left the dishwasher. Good appetite friends.
It prescribes donated for: Alvaro Gil
---
TAIL OF VEAL WITH WHEAT FLOUR
1 tail of big veal, of 3,30 lb. to 3,85 lb., 4 leeks, 2,20 lb. of onions, ¾ of liter of wine tints,
wheat flour, salt, pepper and oil.
To make pieces the tail, to pepper to the pleasure, to go the pieces by wheat flour,
to place oil in a pan, to gild the tail. When it is very golden, to separate it and in the same oil to braise the onion and
the leek previously in pieces, once the onion is well braised to introduce the tail and to cover of wine tints,
to put to slow fire from 2 to 3 hours until the meat comes off almost of the bone.
It prescribes donda for: Carmen Garcia
---
HEAD OF MEAT OF PIG TO THE PAPRIKA
3,30 lb. of pig head of meat, 1 fat onion, 1 soup spoonful of sweet paprika,
it dilutes, fried tomato and salt., 4 leeks, 1 kg. of onions, ¾ of liter of wine tints,
wheat flour, salt, pepper and oil.
To cut in Julian the onion and to fry lightly in adeite (to toss some salt to the onion so that he/she sweats) when it is
transparent the onion to add it, to remove until a refried little bit is, to add the paprika and to refry
carefully so that the paprika doesn't burn. Next we add three soup spoonfuls of fried tomato,
we remove everything during 2 minutes, we toss the water and salt to the pleasure and we allow to cook until reducing to their sauce.
It prescribes donated for: Jose Manuel Santos
---
CROPS OF PIG IN SAUCE
2 or 3 pig crops (stomachs), 2 slices of fried bread, 3 cloves of garlic,
parsley, a jet of vinegar and oil of virgin olive.
This plate in my town that calls you Aguaviva De la Vega (Soria), is called morcon, it is typical when the slaughters of the pig were made.

They wash themselves in cold water the stomachs and they put on it is necessary to cook in the quick pot the enough time so that
be well cooked.
While, he/she gets ready a pounded with the garlics, the parsley and the fried bread, a jet
of vinegar and it dilutes.
They slip well the stomachs and they intersect in pieces, placing them in a pan,
he/she is added all the one pounded, adding dilutes if it was necessary so that it cooks a while.

This plate is more good of one day for another.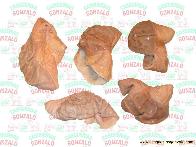 It prescribes donated for: Rosa Mª Ballano
---

COOKED OFFAL OF LAMB

2 offals of sucking lamb, 1 onion, 1 bobby, 2 garlics, parsley, dilutes and paprika.

You begins leaving the offal in small pieces. In a pan, to be possible of mud, they throw like
4 spoonfuls of oil virgin, you slow they braise and a considerable time the offal,
it is added the paprika, the garlic majao
together with the parsley and it braises again. When it is already noticed that he/she goes
tossing all the juice it is added as 2 glasses of water and
it is allowed to boil about 30 minutes. Celiente is served and accompanied by some roasted peppers or of potatoes
fried small.
It is delicious to prove it.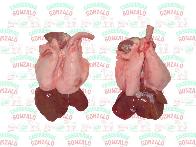 It prescribes donated for: Conchi Rubio
---
LIVER WITH ONION

1 big fillet for person, he/she can lamb being, pig or veal, 2 small onions,
oil, 1 clove of garlic, 1 glass of white wine, salt, pepper and parsley.
To cover the base of a pan with oil and to put it to heat to half fire.
To chop the garlic and the onion and to refry some seconds.
Before they are gilded, to incorporate the fillets
of liver and to braise. To the end of some minutes, when they are almost clever, to toss a glass of white wine
for above, to be possible sherry, and to pepper to the pleasure.
To go down to slow fire and to maintain it a while more, removing
from time to time, but without spending of time so that they are not hard.
Before taking out it, to sprinkle with parsley.

It prescribes donated for: Eduardo Otero
---
GIZZARDS OF LAMB IN SAUCE
2,20 lb. of lamb (2 people) gizzards, ½ onion, 6 cloves of garlic, 1 glass of white wine,
laurel, thyme in branch, sweet and spicy paprika.
We begin putting them in the pile with cold water, and to change the water a couple of times until they are whitish.
Once scalded and peeled, the rest is to sew and to sing.
We fry lightly half onion very itched with a laurel leaf and a spray of thyme and, before
lame color, we add the gizzards, previously last for wheat flour, they are fried a little so that he/she "catches" the wheat flour, we dew
with a glass of white wine and we dew with the one Refried.
In Astorga (Leon-Spain) and rest of León, they don't usually put he/she came, onion, neither thyme, alone the one Refried,
but it is this way a little more soft and more flavorful.
They also accompany him with potatoes when he/she eats up as plate, but the richest thing is of
it covers and to wet bread. Although it takes paprika, in this plate yes we can put a good one I tint of Rioja, Ribera del Duero or Toro,
that they are areas where he/she eats up this way a lot of east plate prepared.
It prescribes donated for: Ricardo Miranda
---
GIZZARDS OF PIG IN SAUCE WITH SHRIMPS AND CLAMS
2,20 lb. of pig gizzards for (2 people), ½ small onion,
½ garlic, 0,33 lb. of peeled shrimps, ½ glass of white wine,
½ bobby, ½ spoonful of wheat flour, some few clams, yellow coloring, salt, oil and 1 glass of water.
To toss oil in the pan and to fry lightly the onion and the
garlic cut in small pieces.
When it is poached the onion and the garlic, to toss the wheat flour, to remove a little,
then the wine, the water and the coloring.
Then we put the gizzards, the clams, the shrimps, the bobby and the salt.
They allow to cook until the sauce
thicken a little and the gizzards are tender. Then lists to serve.
It prescribes donated for: Inmaculada (Meco)
---